… interview with Paweł Wojtyczka, founder of the European Foundation of Social Activisation EFAS and the originator of the asperIT project.
It has been several years since asperIT has started to active people with Asperger's Syndrome to work in the IT industry. We finished three editions and look forward to establishing a new one – in Warsaw. Paweł Wojtyczka, the originator of the project, agreed to an interview. He told us about the beginnings of the asperIT, and about things which have surprised him the most during these past editions!
asperIT: What were your professional work origins? What route did you follow until you established the Foundation?
Paweł Wojtyczka: I came up with the idea many years ago. My career in IT has started many years in the past when I was graduating from Wrocław's Polytechnic Institute. I studied Computer Studies at the Department of Electronics. It was then when I decided to establish a computer company with my friend from the Polytechnic. We were making websites, e-commerce, etc. We were both programming while building this small business. So I'm a graduate programmer, and this industry is the closest to me. Throughout many years we were making software house, where we were performing projects for clients. I used to run a PromoSMS.com. It was fully automated, computer, SaaS service. During this time, I accidentally found out about Asperger's Syndrome. It started by watching some random movie on the TV.
The film based on facts, and was telling the history of a woman with two children, each with Asperger's Syndrome, who were very different from one another (Miracle Run, 2004). The story was about their everyday lives, about the problems they had, about challenges in school. The way their lives looked touched me. It was just like a new beginning. On this basis I have started to dig into this topic, throughout common curiosity – maybe because back when I was a student, I was trying to get into the psychological studies as a second course – which eventually did not happen, but my interests kept flowing in this direction. The idea of doing something in that matter was growing inside me. After several years I have decided to act – I established the Foundation.
At first, it wasn't supposed to look like today. I was a computer consultant in the association Sektor 3. It's an incubator for various NGOs in Wrocław. I was advising on the topic of computer science to people, who wanted to do something good, and I also wanted to. That's why I have decided to use my management skills and fuse it with my interests to create the Foundation in 2015. 
We have kicked off with performing small projects not connected to Asperger's Syndrome. We were fulfilling microgrants about helping children and similar little actions. Sometime later I found out about the Action Incubation project, and I decided with my partner Tomek Jasiński, to write a submission about making a pilot edition of asperIT.
We started by contacting Kasia Rybotycka and Jacek Śmigiel (future tutors of asperIT). We had several long discussions and agreed to make the pilot edition together. Tomek Jasiński was the coordinator these days (now he is Chairman of the Board). It was purely spontaneous because none of us had any experience in that matter. We managed to sign cooperation with testuj.pl and make edition with them. But the grant has ended. Fortunately, we found new opportunities to work. But the need for another grant, seeing how things work and how our actions are dependant on financial status made me realize we need to make ourselves independent. We have to have know-how which will allow us to act and not look at outside funding.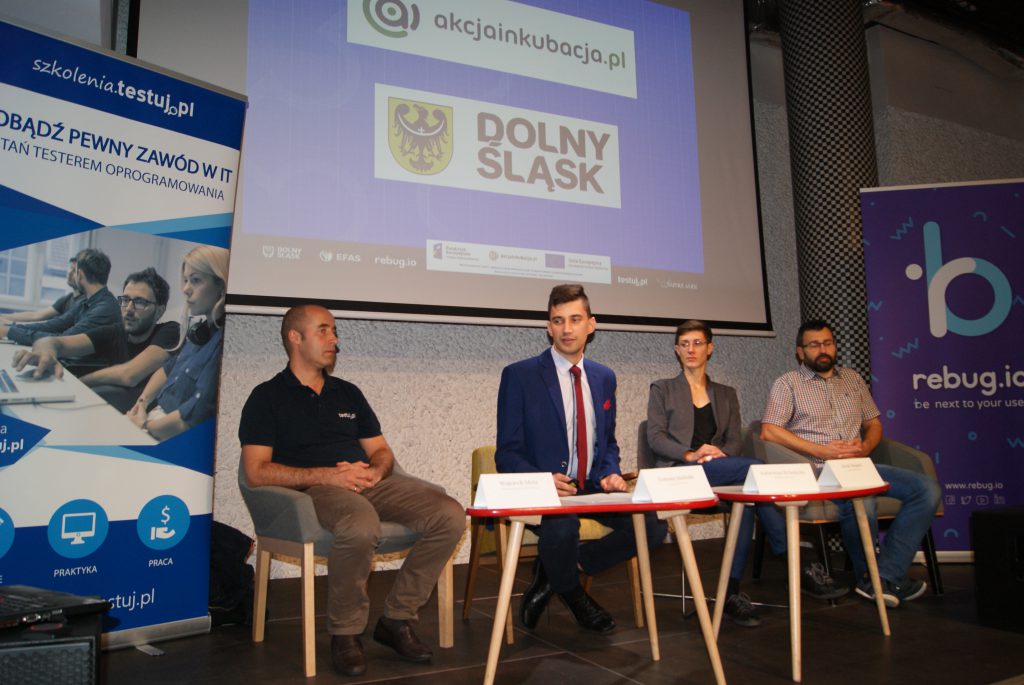 asperIT: Where did you get the name from?
PW: Before we even made contact with the therapists, before everything has even started, I have quickly come up with the name "asperIT" and made a simple website. I showed it on Facebook to catch some first interest, but somebody shared on the group Naughty Children. It went straight to the Warsaw communities. Suddenly I have received a lot of calls from people from Warsaw working in the big companies – they wanted their children with Asperger's Syndrome to participate in this kind of project. It was a huge inspiration for me and made me even more focused on trying to get another grant. These calls were unspeakably emotional – people were talking about their children, their personal stories and they were blindly open to what they have seen on a simple site.
asperIT: Did you have a long-term idea for a project during the pilot edition?
PW: At first we just wanted to come and see if this is going to work. Examples from foreign companies, for example, auticon in Germany, where only people on the spectrum of autism are employed in their technological department, were an inspiration to try. We were not thinking about business. I was just wondering how can this be, that people extraordinary in some ways are so good in fields very close to me from a career perspective.
asperIT: Why is it worth to activate people with Asperger's Syndrome in the IT industry?
PW: These people have natural abilities in science, and they can often reach better results than typical people working in this branch. It was a basis for me to help and provide them stable future, development, and tranquility to their families. I wanted to combine it with something not typical for foundations to do. I wanted to see long-term, real results. In this case, all parties win.
asperIT: Why did you choose the three-stage model of the course?
PW: It was an idea of Jacek and Kasia, who were inventors of soft skills training. They, on behalf of their experience, said that this is the best way to approach this problem. Their job was to establish a program. The people with Asperger's Syndrome often have difficulties with social signs – metaphor, irony, sarcasm. It causes problems with everyday communication. That is why we have chosen this approach because the key – and what is innovative – is to provide them these soft skills, which they simply need in the workspace, and normal life. And this just works – in every group of beneficiaries. They make great relations and open themselves to each other and on our tutors. Thanks to this pattern we have provided so far about 250 hours of training for a little less than 50 people. A lot of them managed to start their careers in IT.
asperIT: What makes asperIT innovative and different than other social projects?
PW: In NGOs with worthy causes work people involved in social affairs, but they lack business and project thinking. I have always disliked this project to project mentality. Of course, it is a good way. But for me, the most important thing in every action is to build something, that in the future – with right management and ingenuity – will have a chance to keep prospering. We are distinguished by this tangible outcome – our beneficiaries attend to the international ISTQB certificating exam. This is an immense chance for them.
asperIT: What was the most surprising thing throughout these years?
PW: The number of people requiring our help was surprising in its way. I thought it is a small niche, which will run out after the 1st edition. And personally, a huge surprise was a difference between the behavior of 40-year-old adults with autism and these late teens just walking into adulthood. It is a sad result of a lack of help and therapy in the past. Young people are functioning very differently and it is very touching. I am surprised even by the way of thinking. During the 1st edition, while handing out the certificates, one boy walked in the middle and didn't shake my hand saying, that "he didn't pass" (He didn't pass the ISTQB exam, which doesn't mean he didn't complete the training course). He said that he doesn't deserve the certificate, because he didn't pass. This situation for me – a neurotypical person – was very uncomfortable. You just have to get used to this kind of behavior while working with them. And it can be very hard.
Of course, it also works the other way around. There were a lot of surprises when our tutors were lecturing IT staff from testuj.pl. They encountered a lot of stereotypes about the way people with autism function, and how fearful they approached this subject. It's quite astonishing from point of view of someone, who knows how autism works.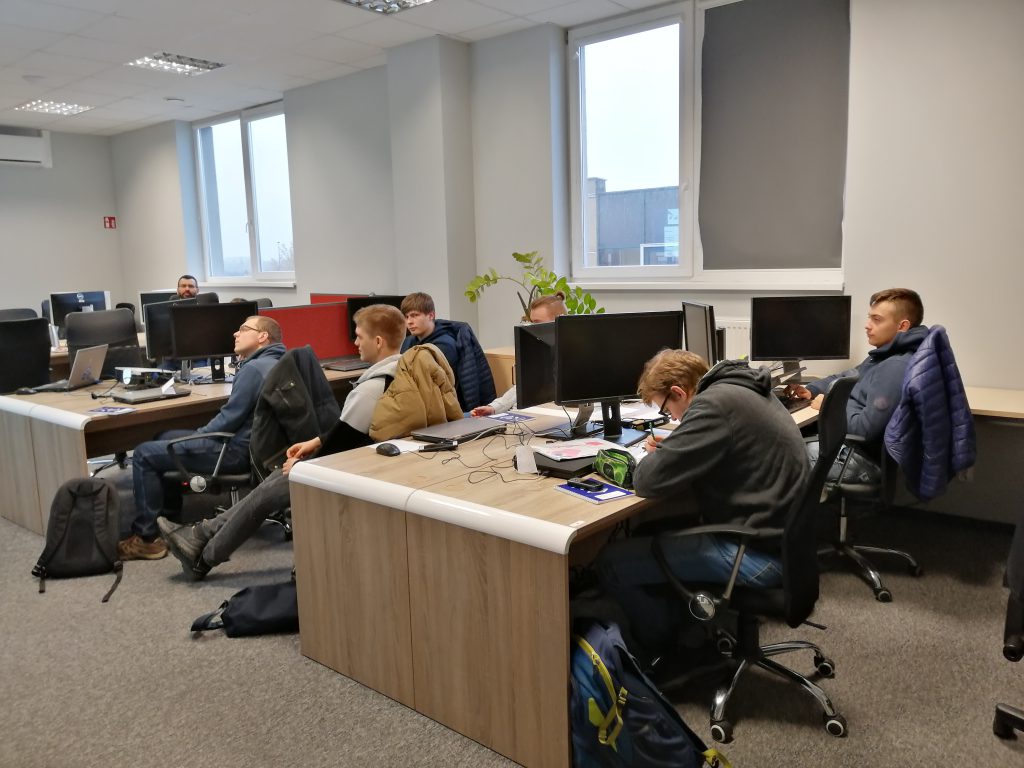 asperIT: Do you agree with the statement, that level of consciousness about autism in Poland is low?
PW: Yes, it is poor. Of course, when I talk with other people they all claim to be aware of that matter. But the way of communication is changing and you hear about this topic more frequently. I have friends – whose child was not speaking until 4 or 5 years of age. They kept visiting many specialists until the suspicion of Asperger's Syndrome came. When you have children you pay a lot of attention to this.
asperIT: In which direction would you like Foundation to go?
PW: My main goal is to assure self-sufficiency for the Foundation. I would love to create an excellent long-term know-how based on working with our beneficiaries, so after 5 to 10 years we could offer our projects to lower age groups. It would be great to say: "Hey, we have the Foundation, we have helped many people, and they found each other exquisitely in the IT, and we know how to work with them. So now, Dear Parent, if you have a child with autism who is about 10 years old we can check if your kid has abilities in the IT and offer you a training course, which will help when this kid is a grown-up." This is my target. Therapists confirm the correctness of this approach – the faster you start helping and schooling them, the better results they can reach.
I would like the Foundation to prosper and to keep reaching our objective. I want us to remain open for new concepts and ideas which come to you when you work with different kind of people. One of our main goals is to start offering a job to our beneficiaries when they will perform satisfactory, lucrative work which will bring comfort to their lives. I want to give them complacency. And this will superbly combine with a desire to provide quality services to our clients. Because if they see how much good work our atypical employees do, they will keep spreading our mission into the world.